Latest Stories
Short Takes
05.23.13 - CableFax
Commentary by Steve Effros So many things going on at the moment and so little time! Here are some initial reactions that I will fill in the details on in future columns, but I know you're reading about...
READ MORE »
---
Latest Issues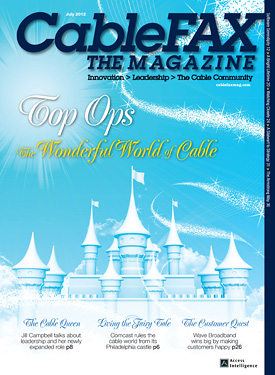 View Digital Issue

The CableFAX Top Ops Issue


We're proud to announce our annual CableFAX Top Ops Magazine that honors the Operator and Independent Operator of the Year!


Find out more.
..
---
Most Read
Xbox One: Set-top Replacement or Compliment?

05.22.13 - CableFax

Bullpen: DIBA Reconsidered
01.01.09 - Communications Technology

FCC Friday: Net Neutrality, Spectrum Auction, USF for Genachowski's Last Day

05.20.13 - CableFax

Smaller Node Sizes Add Flexibility
09.22.09 - Communications Technology

Rovi's Double Dip Xbox 2: MoCA Mojo: OTT: Convergence

05.21.13 - CableFax

HD War Update—Channels and 1080p
07.31.08 - Communications Technology

Events

CableFAX Webinar:
Vine, Viggle, GetGlue:
Leveraging the Newest Social Media Apps to Drive Engagement and Brand Awareness
View OnDemand

---
Jobs





Construction Supervisor
Atlantic Broadband
Grasonville, Maryland

Cox Communications

Atlanta

Toner Cable Equipment Inc

Horsham, Penn.


Technical Operations Supervisor
Cablevision
Cheyenne, Wyoming


Job Seeker: Post A Resume, Browse Jobs, Receive Job Alerts
Employers: Post A Job, Browse Resumes, View Pricing
---
---
Cable360.net - Latest Videos

View more videos from Communications Technology and CableFax

---
Community
Join CABLEFAX and COMMUNICATIONS TECHNOLOGY on Twitter
Join the premier NETWORKING SITE for broadband professionals